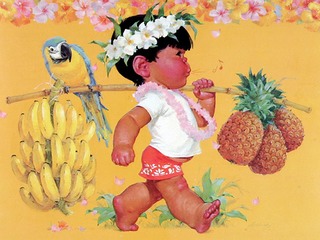 I grew up immersed in (sadly, not absorbing over much) my mother's work as a teacher and illustrator. My small claim to fame is that I modeled for many of the popular "Hawaiian Kids" pieces that she did or Dole Pineapple in the 1970's
I just wanted to link a few nice sites that have put together better tribute to my mother than I ever could. Words are not sufficient.
The Academy of Art University has created a scholarship fund in her memory.
Lief Peng's blog has lovely things to say.  Perhaps I will get a chance to meet him some day.
If you are interested in drawing the clothed figure, she wrote the book.